Free shipping on orders  >150€  (*)
(*)  We offer standard shipping for free if order amount is >150€  (taxes excluded). The service is available in EU (some remote areas may be excluded)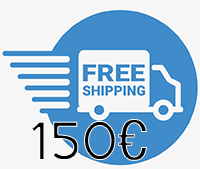 Il costo della spedizione è fisso e relativo al singolo ordine, non al numero di componenti acquistati. 
The cost of shipping is fixed and related to the individual order, not to the number of components purchased.
If you have an EU  VAT number you can have an invoice without Taxes. Insert your VAT number during checkout and we calculate automatically the total amount.
If you experience any problem or you need further informations, feel free to contact us